About me
I'm Daniella del Carmen (she / they), a poet, artist, teacher and tarot practitioner born in Perú and based in the UK. My work with tarot weaves together my poetic sensibility, my interest in symbolic language and the power of images, and my spiritual practice.

Tarot and playing cards have been around me all my life. I descend from a long line of timberas (card slingers) and I spent many afternoons playing cards with my great grandmother and both my grandmothers. I witnessed them shuffle anxieties away as they busied their hands and their minds through solitaire spreads. I saw them weave ties of solidarity through afternoons of sharing secrets while playing cards with friends.
Some of my fondest teenage memories are of winter Sunday afternoons playing cards with my grandmother, aunts, stepmother and cousins, as we talked, joked, sharpened our maths skills, tamed our competitive streaks, tested our cunning ways and bonded. Playing cards with family teaches you so much about human character, the impulse to cheat the cards we are dealt and the skill to accept and make the most of them: The invaluable lesson of how to cut our losses.
As a child I understood the potential of Tarot as a healing space through witnessing adults around me gain perspective on their anxieties. Even if I didn't have the tools to articulate these understandings at the time it was palpable that my mother's quarterly Tarot readings allowed for a dispersion of tension, they gave her space for reflection.
All these experiences, both playful and introspective, inform my approach to Tarot. I am soothed by the physical act of card handling and the space it creates. As a poet, the symbolic qualities of Tarot unleash deep creative prompts for my intuition to come through with wider perspectives.
I bring all of myself into my work with others, which includes the knowledges acquired through my lived experiences. My approach is trauma sensitive and informed, and I'm constantly updating my tools for both my benefit and the benefit of those I work with. I study somatic education, non-violent communication, evolutionary astrology and mysticism. All of my studies inform and nurture my Tarot practice.
You can read more about my art and poetry on my
Daniella Valz Gen website
.
My approach

My approach to Tarot defines divination as creating sacred space for deep insight into the present moment.
A reading operates as a bird's eye view that reveals the energies that surround us and their potential.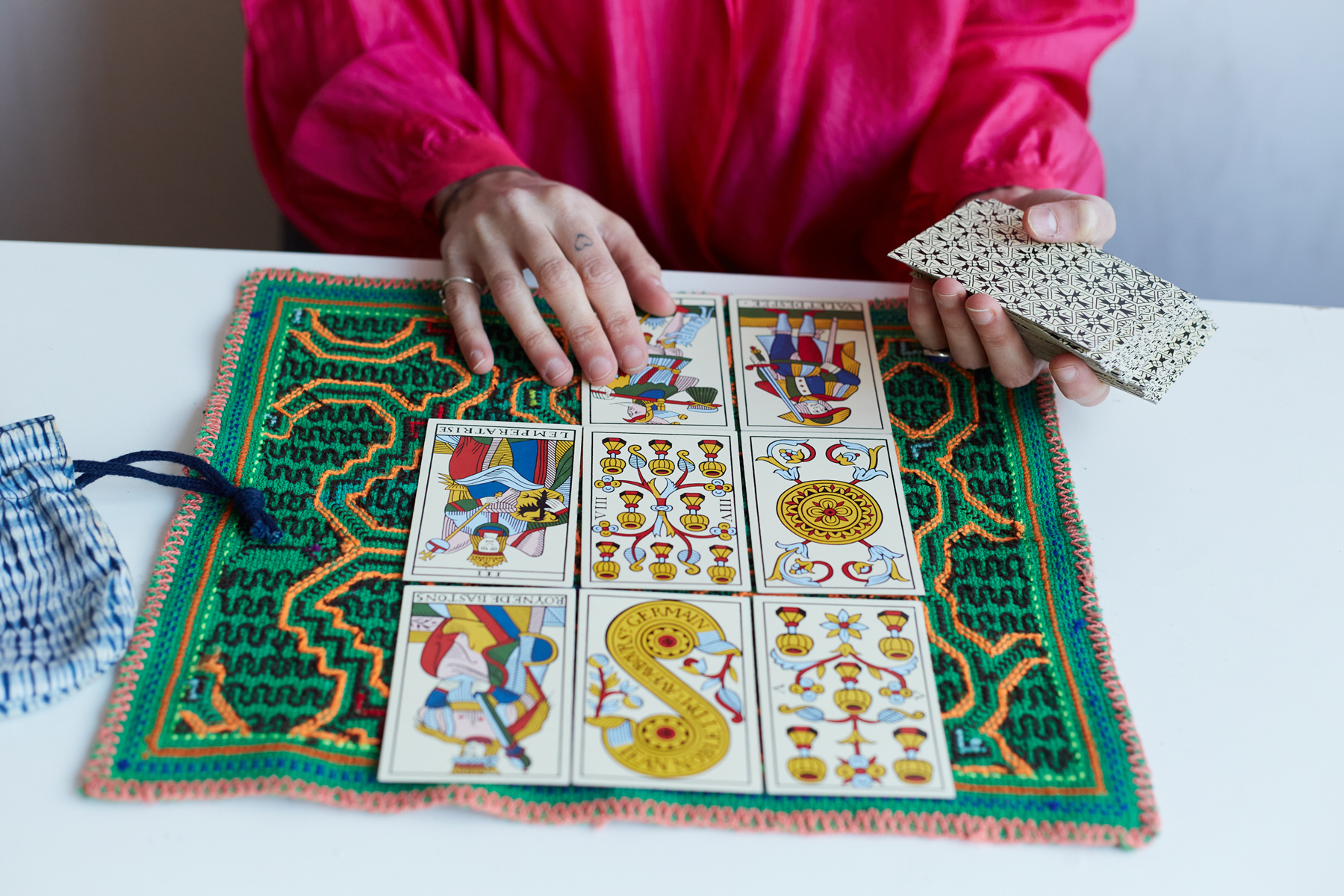 A tarot reading can provide orientation towards generative routes of action for our personal development. It can help us gain awareness of our contradictions, inner challenges, and ongoing patterns so that we can acknowledge them towards holistic living.
I also like to think of Tarot as a tool for gathering intelligence: Being practically minded requires self awareness. I use Tarot to look at the macro and the micro. My approach holds space for matters of the soul through a pragmatic lens. I'm committed to being of service through clarity.
Influences
My Tarot practice has been a long time in the making. I turned to Tarot as a tool to aid me through a therapeutic process, and at the beginning I faced the challenging reality of having my fears mirrored back to myself. It was through the wise teachings of
Lindsay Mack
regarding Tarot as Medicine and Lindsay's brilliant articulation of the brain chemistry of trauma, that I found a solid reference point and the compassion necessary for a deeper and kinder understanding of how tarot can be used as a tool for self-reflection. I also admire the important work done by
Jessica Dore
on tarot and psychology.
Though I have much respect for esoteric Tarot, I mostly read cartomantic style. I'm an ongoing student and admirer of
Camelia Elias
and her zen approach to the cards, which is aligned with my Buddhist practice. I'm also a follower of Enrique Enriquez' writings on Tarot as poetry and his playful rhyming, alongside his extensive work around the history of the tarot.
Photographs by Amy Gwatkin